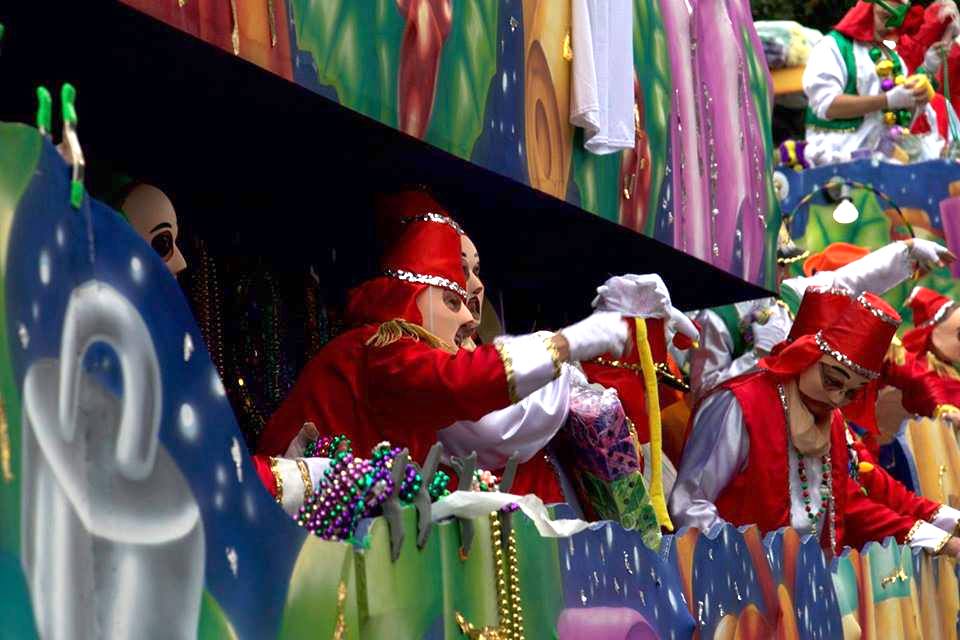 The holidays are over but the fun is just beginning in New Orleans. January kicks off the Carnival (Mardi Gras) season down here which, for many, edges out Christmas as "the most wonderful time of the year." It's also the beginning of King Cake Season. Make sure you book your hotel early. Hotels fill up quickly during Mardi Gras.
Allstate Sugar Bowl, January 1
Played in the Mercedes-Benz Superdome every year, the Allstate Sugar Bowl is the second-oldest bowl game in the country (since 1935). Since it's in New Orleans, it's definitely the most fun!
Phunny Phorty Phellows Parade, January 6
Every Twelfth Night, the Phunny Phorty Phellows rattle through the city on the St. Charles Streetcar, drinking champagne, eating king cake, and throwing the first beads of the season. Known for their satirical costumes inspired by current events, the Phellows first took to the streets in 1878 (with a long break that lasted from 1898 until 1981).
Société Des Champs Elysée, January 6
Yell throw me something, Mister, at La Société Pas Si Secrète Des Champs-Élysées" (The Not So Secret Society of the Elysian Fields), a.k.a, the Société Des Champs Elysée. This band of 40 merry revelers will float through the city on the Rampart – St.Claude Avenue Streetcar. If everything times out as planned, the krewe will pass the Phunny Phorty Phellows who ride the St. Charles Streetcar. Stand at Canal between Carondolet and Rampart if you want to witness the meeting of the krewes.
Krewe of Joan of Arc Parade, January 6
This annual walking parade honors the patron saint of France. It is inspired by Joan of Arc's time in France in the 1400s, where she liberated the citizens of Orleans from British siege. Parade goers can be found dressed in gold, and there's always plenty of king cake to go around.
King Cake Festival, January 27
Come find the baby! On Saturday, January 27, from 10 a.m. to 4 p.m., all New Orleans will be heading to Champions Square for the King Cake Festival. Are you a traditionalist? Need a little filling? Love flavors like praline pecan or bananas foster? Come get a slice of the action.
Pic: Ivonne Doumas
Looking for a hotel on the parade route? Start here.
Posted:
January 1 2019 |
Blog