10 reasons to forget Airbnb.
These days, more and more travelers are trying their luck at Airbnbs. Why? Because they're under the impression that it's cheaper than staying in a hotel or bed & breakfast and you get a more authentic experience. Problem is, that's not always true ­– especially in New Orleans where you can get the authentic, local experience at competitive prices in small hotels, townhomes, or B&Bs.
When you opt for a small hotel or B& B over an Airbnb, you get:
1. The look and feel of staying in a neighborhood
Many New Orleans hotels have a boutique nature and are located in historic neighborhoods.
2. Flexible check-in times
Checking in is fast and easy any time of day or night at a hotel, townhouse or B&B. You don't have to apologize for a late arrival, beg someone to drop off the keys or find the flower pot where they agreed to hide them. Without 24/7 desk service, checking in and out of an Airbnb can be a huge hassle, especially if you're arriving late at night.
3. Superior security features
Airbnbs usually don't feature extensive security for you or your car, but these smaller properties have superior security features. Your car won't be out on the street, heaven knows where.
4. Full kitchens, if you want them
Most of our New Orleans smaller properties (such as B&Bs and smaller hotels) include kitchens and free breakfast.
5. Run of the whole place
Don't think Airbnb is the only way to get the whole place to yourself. Often, you can buy them out completely because there are so few rooms.
6. Privacy
Recently some Airbnbs have come under fire for putting cameras in private areas such as the bedroom – even bathrooms. While the owners insist they're only there to protect their properties against damage, it has left some Airbnb customers running for the door.
7. Personal contact and photos that match the description
Traditional properties have an online presence that allows for personal contact, allows you to see pictures of the property and book directly. With Airbnbs, there is usually no website and often the property doesn't match the description. (It's kind of like online dating that way.)
8. Help whenever you require it
If you need help, there will be someone close by at a traditional property who will be responsive to your needs.
9. Room service and maid service
Who wants to make their own bed on vacation?
10. No worries about fraud
At a hotel or B&B, you won't have to use Airbnb features like Verified IDs, secure payment platforms, reviews and messaging to reduce the risk of fraud.
Support our local boutique properties and their dedicated employees and enjoy your stay with us soon!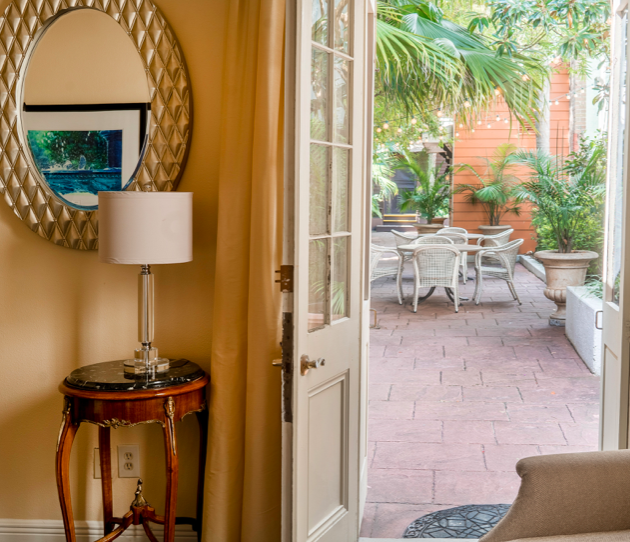 In the French Quarter...
Hotel Provincial
This beloved French Quarter property is comprised of buildings that were once former residences. It's located on Chartres Street in a quiet part of the French Quarter but close enough to all the action. With Hotel Provincial, you get the best of both worlds.
In the Garden District...
Queen Anne Garden District Hotel
This Garden District mansion is the perfect place to come home to after a day exploring the city. The Queen Anne is the perfect hotel for people who don't want to feel like theyr'e staying in a hotel.
Prytania Park Garden District Hotel
This sister property to the Queen Anne Garden District Hotel is also a true charmer. Part of the Prytania Park is an 1850's Greek Revival house. It has all the advantages of an Airbnb without all the disadvantages.
For more of our favorite boutique hotels visit our selection of Boutiques and B&Bs.
Read: How To Scan Your Airbnb for Hidden Cameras
Posted:
March 1 2020 |
Blog