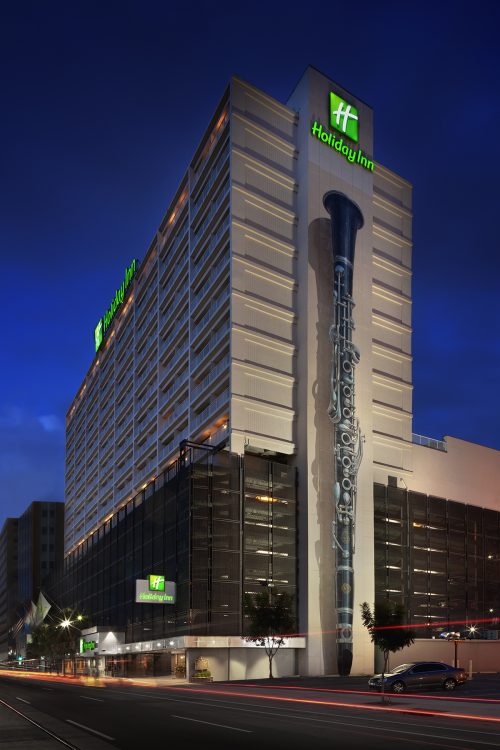 Just across the street from Duncan Plaza – where jazz great Louis Armstrong grew up – sits The Holiday Inn Downtown Superdome. While this sleek hotel is ultra-modern, it's rich in history as well.
The Holiday Inn Downtown Superdome is an art museum that pays tribute to this historic neighborhood known as "Back-a-Town." You can spend hours studying the detail in the jazz-themed Robert Dafford murals that line the hotel walls, including the famous 150-foot clarinet on the side of the building. If pop art is your passion, you'll love the original Andy Warhol in the lobby as well as the Warhol work in every room. You'll in bed staring at the artist's famous Campbell's soup can, thinking about that gumbo you had for dinner last night.
Speaking of food, the hotel is also home to the Holiday Streetcar Restaurant and the Mardi Gras Lounge. The food and drink is fantastic here – just check out the menus and the reviews. You'll also enjoy the rooftop pool, one of the best in the city. If New Orleans wasn't just outside, you'd never give up your chaise.
Of course, one of the main draws of the hotel is its sweet location – on the Loyola Streetcar line, just blocks from the Mercedes-Benz Superdome, the Smoothie King Arena and Mardi Gras parades and streetcars on Canal Street. If there's a trip to New Orleans if your future, follow the clarinet to The Holiday Inn Superdome.
>> Book Now
Posted:
January 16 2018 |
Blog