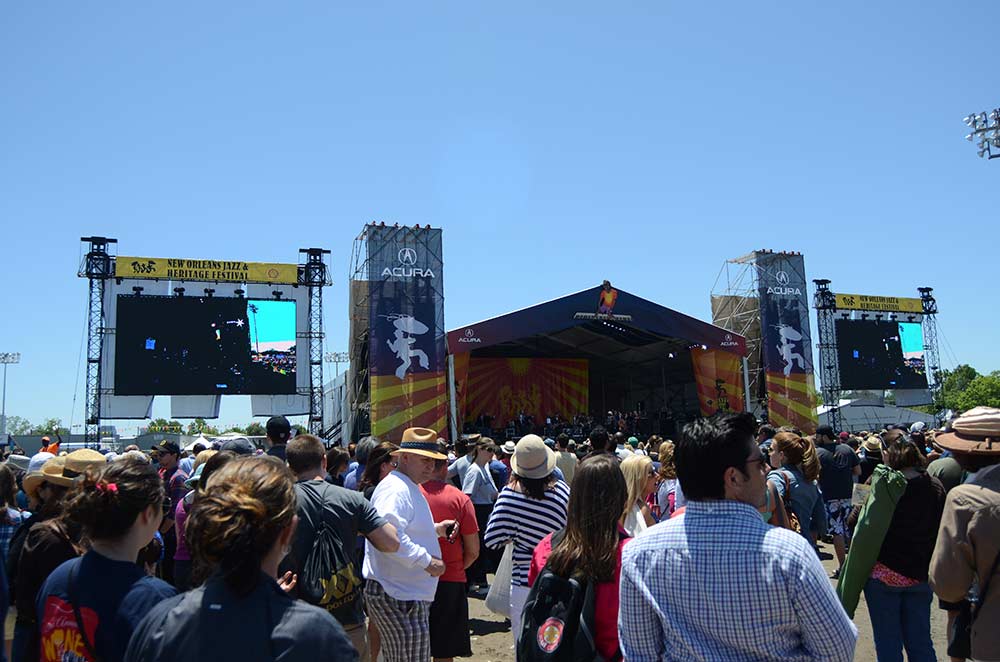 The sun is shining, everyone has their festival fashion ready, and sounds are starting to drift through the air around the New Orleans Fair Grounds. That can only mean one thing: It's time for the New Orleans Jazz and Heritage Festival.
Jazz Fest can be an intense experience, especially if you're going multiple days. That's why I put together a few tips to make your Jazz Fest headache-free and as festive as possible:
Plan your schedule in advance : If there are any musicians you just have to see, plan your blocks ahead of time. Don't be afraid to deviate from that schedule, though. You never know what music you might discover while walking across the fair grounds. I have a feeling that you'll leave with at least one or two new favorite bands after randomly discovering them playing on a stage.
Getting there: Please don't drive! Trust me, you'll thank me for this advice later. Instead, take a city bus, the Jazz Fest Express shuttle, taxi cab, bike (parking is along the Gentilly Blvd entrance), your own two feet, or really any other method of transportation other than driving. If you have to drive, leave extremely early and please don't park illegally (blocking a hydrant or driveway, near a corner, etc.). NOPD officers will be out ticketing, and they aren't afraid to tow cars. I don't want to see that happen to you.
Getting through security: This year, bags and backpacks can't be any larger than 17 by 12 inches. You can't bring any hard coolers through the gates, but you can bring soft coolers if they're the 12 pack size or smaller. Also, make sure your tarps and blankets are smaller than 6 by 8 feet.
Speaking of tarps and blankets: The white line separates the space where standing, dancing and getting down is permitted from the space where blankets and chairs can be setup. Don't be that guy that sets up his blue tarp in the middle of the standing room only area, and wonder why everyone is giving you dirty looks. Also, if you do set up in the standing room only area, don't be surprised if festival staff tells you to pack it up.
Come hungry: There is a lot of great food to try at the fair grounds. The line is worth the wait for the famous crawfish bread, but save room to try other dishes too. When you start to sweat, be sure to get a mango freeze or one of the freshly squeezed lemonades.
Want to see the big names?: Plan on getting to the stage one or two performances early. It can get pretty crowded around the Acura stage. Or you could drift over to the smaller stages and avoid the crowds to enjoy equally talented musicians that just happen to not be as famous.
Need a break from the sun? Stop by one of the tents: blues and economy hall, gospel or jazz tents. There are also three stages underneath the grandstand that provide some shade, and keep an eye out for the misting tents.
Plan to be there all day: Jazz Fest runs from 11 a.m. to 7 p.m., so plan to make a day of it. If that still isn't enough, just about every music venue in the city has shows lined up in the evenings, making it easy to catch a show or two.
Insider's tip: you never know what big name musician will decide to sit in with the local favorites in the evenings, so it's worth it to venue hop!
Last but not least, I'm going to sound like your mom: Drink plenty of water throughout the day and use lots of sunscreen. And don't forget your hat!
Posted:
April 28 2014 |
Blog