There are many great reasons to visit New Orleans during the holiday season - the boutique shopping, the Christmas decorations, the concerts in St. Louis Cathedral and so much more. One of my favorite reasons is the Reveillon dinners.
Reveillon is French for "the awakening." It's a tradition that goes all the way back to the mid-1850's when Creole families celebrated with festive multi-course meals during the holiday season. Traditionally the first Reveillon meal was on Christmas Eve, the second on New Year's Eve, but today it's celebrated in New Orleans restaurants on a nightly basis throughout all of December.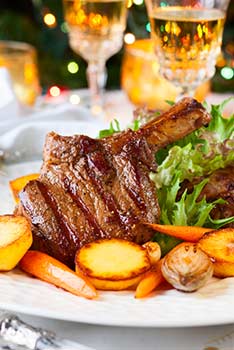 On Christmas Eve, families would fast for a day, attend midnight mass at St. Louis Cathedral, then break that fast with a large, rich meal. The New Year's Eve celebration included inviting over friends and loved ones for a fun filled meal with delicious treats. Afterwards, families would return home and partake in a light meal before dancing and singing the night away.
In the present, New Orleans restaurants serve both traditional Reveillon meals inspired by Creole traditions, as well as contemporary menus that use ingredients and cooking techniques that weren't available in the 19th century. The multi-course meals average between $45 and $55, while some restaurants may be slightly more expensive.
Here's a look at many of my favorite restaurants that have special menus this year. For more information about the restaurant, click the link.
Bistreaux - Located in the Maison Dupuy hotel, Bistreaux has put together a four course contemporary menu featuring Bourbon Roasted Chicken, as well as Braised Beef Short Rib.
Court of Two Sisters - Year after year, visitors to New Orleans go back to Court of Two Sisters. Their Jazz Brunch is one reason, their Reveillon dinner is another. This month, they're serving a traditional four course menu that has choices of Roasted Half Duck, Blackened Pork or Gulf Fish Clemenceau.
Crescent City Brewhouse - If you're looking for good craft beer, as well as a delicious meal check out the Crescent City Brewhouse. Their Culinary Institute of America Trained chef put together a traditional five course menu with choices of Redfish Pontchartrain, Shrimp & Grits and Southern Crispy Duck.
The Pelican Club - Nestled away in the quiet Exchange Alley and close to many French Quarter hotels, the Pelican Club put together a contemporary Reveillon menu with choices including Lobster, Braised Pork Ribs, and Dry Aged Prime Strip.
Tujague's - Tujague's is the second oldest restaurant in the city and so of course they have a traditional meal planned with four courses. The menu includes Lamb Chops with Brandy Mushroom Sauce, House-made Gnocchi with Louisiana Blue Crab and Wild Mushroom Cream Sauce or Gulf Fish on the Half Shell.
While you're in town, plan to celebrate the holiday season with your family and friends while indulging in a Reveillon meal.
Posted:
December 10 2013 |
Blog