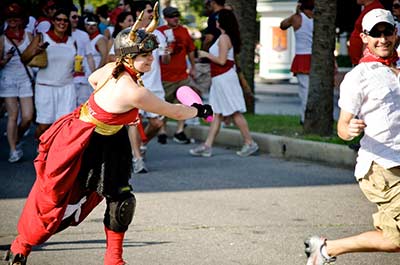 You don't have to travel to Spain to run with the bulls - just to the French Quarter.
Since 2007, thousands of people dressed in white with red handkerchiefs have lined up in the French Quarter to run through the streets with "bulls." We're not talking about the animals though; we're talking about the Big Easy Rollergirls.
This annual event is called San Fermin in Nueva Orleans, and it's happening again Saturday. At 8 a.m., participants will line the streets to run from the Big Easy Rollergirls and other rollergirls from around the nation. The rollergirls will be donning sparkly horns and decorated bats, all to "gore" the runners with if they slow down.
The actual run takes place Saturday at 8 a.m., but there will be other events associated with it all weekend long. Everything kicks off Friday night at the Txupinazo at The Sugar Mill. After the run Saturday, there's the La Fiesta de Pantalones at Maison on Frenchman Street. Participants finish off the weekend at the El Pobre de Mi (Poor Me) event.
It's not too late to plan a trip for this event, and if you need a place to stay, then we recommend staying at a hotel in the French Quarter. Having a room in the French Quarter means that you'll be able to walk to just about everything, or at least only be a very short cab ride. If the French Quarter isn't an option for you, then check out hotels in the Central Business District or the Marigny since both neighborhoods are close by.
Posted:
July 1 2014 |
Blog