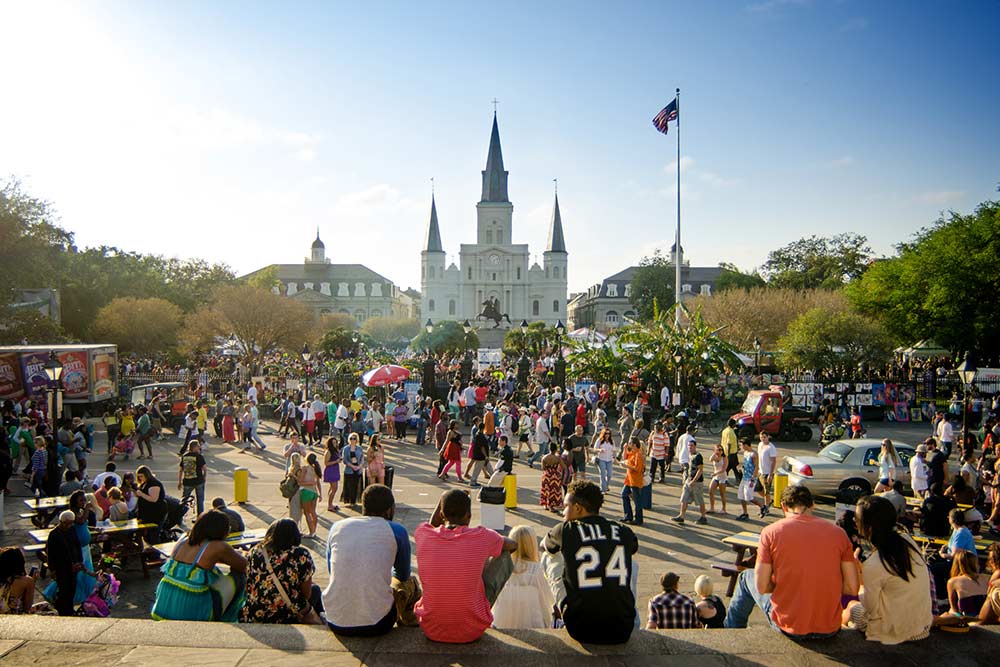 April in New Orleans means French Quarter Festival, Jazz & Heritage Festival and so much more. Mix these exciting festivals with the mild weather and it makes for the perfect time to visit the Big Easy.
French Quarter Festival
The French Quarter Festival is an annual favorite for both locals and visitors. This three-day celebration takes over the French Quarter, and it's one of the largest free festivals in the South. Stages are set up throughout the French Quarter from Bourbon Street to the Mississippi River for musical acts that range from jazz singers to folk artists. This year the legendary Dr. John will headline the festival, and will take place April 10-13.
Ponchatoula Strawberry Festival
Chocolate covered strawberries, strawberry cheesecake, deep-fried strawberries and many other strawberry filled foods will be making an appearance at this year's Ponchatoula Strawberry Festival. The annual festival turns the small north shore town of Ponchatoula into the strawberry capital of the South. There will also be non-strawberry themed music, rides and much more. It's a classic small town festival. This year the festival is April 11-13.
Crescent City Classic
Whether you're a gold medal Olympian or just a weekend warrior, the Crescent City Classic has a spot saved for you. This 10K meanders through New Orleans, starting at the Superdome, snakes its way through the French Quarter, and ends at City Park. The race attracts running talent from all over the globe, including two men competing for the fastest 10K record. For the rest of us, it's as much a party as a race. The 2014 Classic is April 19.
Easter
Easter in New Orleans includes mass, special brunches at premier New Orleans restaurants, the City Park Easter egg hunt and not one, but three parades through the French Quarter. Once you experience Easter in New Orleans, you'll want to keep coming back every year.
Jazz and Heritage Festival
New Orleans is known for its festivals, but the granddaddy of them all is Jazz Fest. It's two weekends of music, including internationally known names like Eric Clapton and Arcade Fire, as well as local favorites like Kermit Ruffins and the Rebirth Brass Band. If you love music, you need to attend at least one weekend. There's also a wide selection of crafts and food, including the iconic crawfish bread. Jazz Fest this year is April 25 - May 4.
Remember, with the agreeable weather and the frequency of festivals, April is a popular time to visit New Orleans. If you're thinking about coming and you haven't already booked your hotel room, do it now!
Posted:
March 31 2014 |
Blog