To Do in the Vieux this May: Five Things You've Probably Never Done Before in the French Quarter.
New Orleans may be celebrating her 300th birthday in 2018, but, believe it or not, there's still a lot that's relatively new in the historic French Quarter. Here are five "to dos" you might not have discovered yet.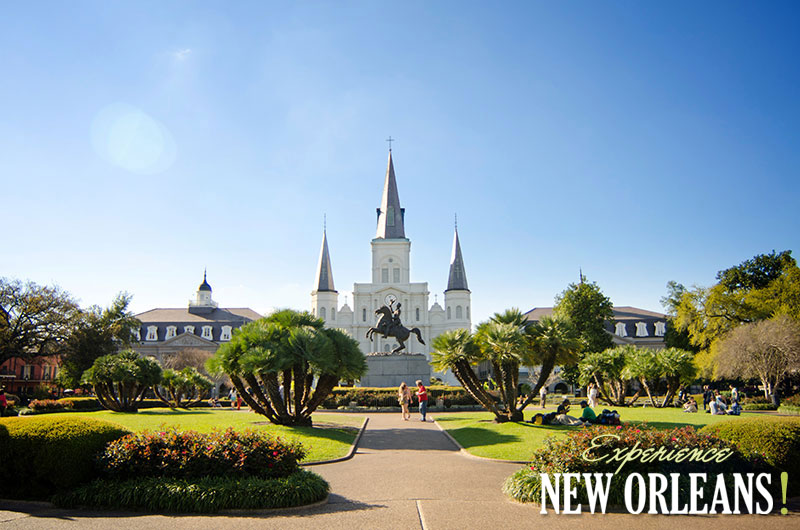 Try on Crowns at The Mardi Gras Museum of Costume and Culture
1010 Conti Street
Like to play dress up? This fun museum is for you. The collection includes elaborate Carnival king and queen costumes, hand-beaded Mardi Gras Indian suits, unique Cajun Mardi Gras outfits, and more. Whatever you do, don't leave without riffling through the "costume closet" where you can try on the Mardi Gras getups of your choice and post selfies.
Reel-to-Real: Louis Armstrong Collages at the New Orleans Jazz Museum
Old U.S. Mint, 400 Esplanade Avenue
This unique exhibit features 28 square tape boxes featuring collages created by Louis Armstrong. The famous jazzman would glue newspaper clippings, photographs of fellow musicians and movie stars with favorite quotations onto the box covers and give them as gifts to friends and family. Inside would be reel-to-reel tapes, recording performances, radio interviews, commentary and other audio. Louis Armstrong's reel to reel tape box collages have never been shown in New Orleans before. They are on loan from the Louis Armstrong House Museum in Queens, N.Y. through May 31, 2018.
Iris and the Goddesses of Carnival
Presbytere, Jackson Square
In partnership with the Krewes of Iris, Muses and Nyx, the Louisana State Museum presents Iris and the Goddesses of Carnival, an exhibition commemorating the centennial of Iris, the first female Mardi Gras krewe. Come explore the evolution of women's krewes in New Orleans from the 1890s through today. Exhibit ends in December.
Explore the Museum of Death
227 Dauphine Street
If you're a big fan of Sherlock Holmes, Criminal Minds, or any show on ID, don't miss this macabre yet extraordinary collection. Come see the skeleton of an alligator dining on a human leg bone, an original painting by "Killer Clown" John Wayne Gacy, a real shrunken head, caskets and more. If you're traveling with kids, skip this one. This museum is strictly for mature audiences.
Breakdown and Take a Carriage Ride
Decatur Street in front of Jackson Square
Yeah, we know they've been around forever but have you ever taken one? Carriage drivers are great entertainers and know this city like, well, the back of their mules. You can't take life or yourself too seriously when you're being escorted through the city by a mule wearing a floppy hat, donned with fake flowers. Isn't that what vacation is all about? See coupon.
Find a French Quarer Hotel here.
Posted:
April 28 2018 |
Blog