Overview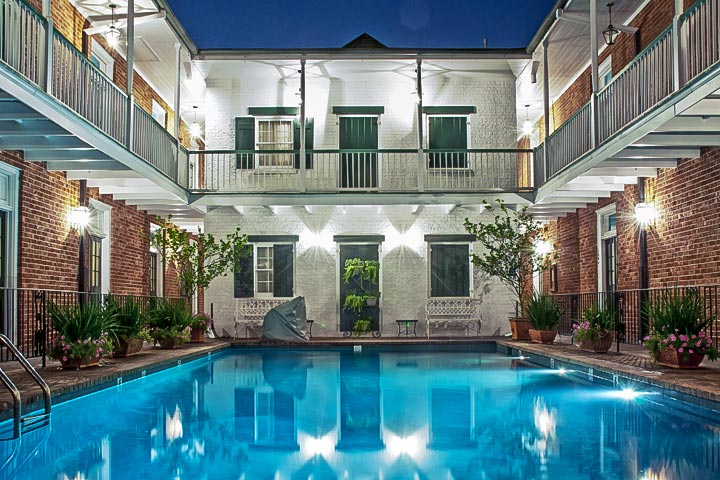 An old-time carriageway – a gentle reminder of the charm and grace of days gone by.
Lush tropical courtyards with elegant European fountains.
Charmingly appointed, oversized guest rooms and suites, many with awe-inspiring views of the Mississippi River, others with balconies overlooking one of two saltwater pools.
Welcome to the Hotel Provincial, your home in the Vieux Carré.
It's been said that America has only three fairytale cities. The Hotel Provincial is one of the reasons New Orleans made the list.
Although listed on the National Register of Historic Places, the Hotel Provincial features all the comforts of modern hotels. The guest rooms are tastefully adorned with brocade drapes, thick carpet and a mixture of Southern antiques and period reproductions. You'll find a comfortable Sealy Plush Mattress under your luxurious bedding and an enticing feather pillow under your head. Lie down, sink in and drift away. There is no better way to end a day of exploration in the French Quarter.
Hotel Provincial is ideal for corporate meetings, weddings, and special events of all kinds as well. With two new party rooms (one opens up to a smaller courtyard), the hotel can accommodate up to 100 for a cocktail reception and 60 for a sit-down affair.
Location
The Hotel Provincial is located at 1024 Chartres Street, New Orleans, LA 70116.
Distance from Hotel Provincial to popular destinations in New Orleans:
French Quarter: You're there!
Convention Center: You're there!
Mississippi River: You're there!
Jackson Square: 0.2
Airport: 11.6 miles
Superdome/Arena: 1.4 miles