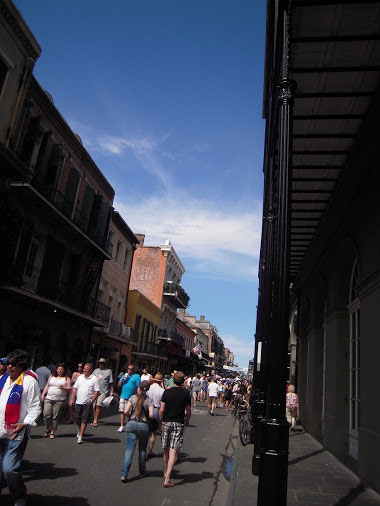 We've seen a lot of people asking when is the best time to visit New Orleans? What is the weather like in New Orleans during March? When is the cheapest time to stay in New Orleans? Why are hotels so expensive in February in New Orleans? And other questions along that line.
The answer is that it's always a good time to visit New Orleans, but here's what to expect as far as the weather, events and prices throughout the different seasons...
Peak Season: February - May
The most popular time to visit New Orleans is during the spring. The mild weather, combined with a number of special events make it a great time to vacation in the city.
As far as special events, there is the Mardi Gras season, January through March. The exact time frame varies year to year, Locals, as well as visitors from all over the world, line the streets to see the parades and try their hand at catching beads. New Orleans Jazz and Heritage Festival is the last weekend in April and the first in May. It features local musicians, as well as internationally famous acts from across the country.
Both are perfect excuses to visit New Orleans, although we should probably warn you about a few things. You'll want to make your hotel reservations at least six months ahead of time for Jazz Fest and up to a year in advance for Mardi Gras for the best rates and rooms. Also, you should know that because the events are so popular, the rates are higher than normal. Plus, you can expect there to be long waits at the restaurants.
As far as the weather, high temperatures range from 65 to 84 degrees Fahrenheit in February.
Detailed Weather & Packing Tips:
Off-Season: June - September
We're not going to lie, it can get hot during the summer in New Orleans. Really hot. The average temperature in June is 89 degrees and it just gets hotter in July and August (averages are 90 and 91 degrees respectively), before it cools down to chilly 87 degrees in September.
That's the bad news. The good news is that it's a lot more affordable to stay in New Orleans during the summer months, plus the crowds are a lot smaller. While you may not want to spend as much time outdoors, these months there's still a lot to see and do. There's Go 4th on the River, our Fourth of July celebration, complete with fireworks from dueling barges on the Mississippi River, Essence Music Festival featuring the most popular artists in R&B, as well has hip hop artists, and many other events.
If you want to save some money and avoid the crowds, it's your time to visit.
Detailed Weather & Packing Tips:
Shoulder Season: October - January
October to January features mild weather like during the spring, but without Mardi Gras and Jazz Fest, the streets are a lot less jammed. Of course, that doesn't mean that it's a bad time to visit. It's a great time to visit, especially since hotel prices are still reasonable this time of year.
October has the New Orleans Film Festival, one of the nation's premier film festivals. Early November has the Voodoo Music Experience featuring some of the biggest names in music entertainment. December is Christmas New Orleans Style. January features the Sugar Bowl and the kickoff of Mardi Gras season. The first couple of weekends are a whole lot less crowded then the final weekend before Mardi Gras. Plus, you've never celebrated Halloween or New Years until you've celebrated them in New Orleans.
Temperatures range from average highs of 79 degrees in October to 62 degrees in January, making it the perfect time to escape the cold temperatures up north and to spend time outdoors in New Orleans.
Detailed Weather & Packing Tips:
October
November
December
January
There's really no bad time to visit New Orleans. You just have to factor in what's most important to you. Also, don't worry that there will be nothing to do if you come to New Orleans during the off or shoulder seasons, there's still lots to see and do in New Orleans, even on the rare quiet weekend.