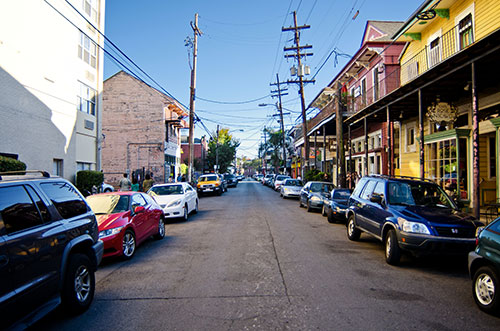 Welcome to New Orleans! We hope you had a safe flight without any delays or a smooth drive without any traffic. Either way, welcome!
Now, let us tell you a few things about getting around New Orleans while you're here in town that will make your trip a little easier.
New Orleans Airport Transportation
If you're coming here via Louis Armstrong New Orleans International Airport (MSY for short), it's about a 15 mile drive to the hotels in the French Quarter and other neighborhoods in New Orleans. You could walk, but with your suitcase that could take a while. Instead, let me suggest one of these other options.
Airport Shuttle: Aw, the good ol' airport shuttle. Travel I-10 or spend any time around the hotels in New Orleans, and we guarantee that you'll see a lot of these out and about. It's one of the more popular ways to get to and from the airport. The airport shuttle is $44 per person round trip or $24 one way. They'll take you straight from the airport to your hotel and you can even setup a time for the shuttle to take you back to the airport. It's easy and convenient. Reserve your ride now.
Rental Car: There's a number of name brand car rental companies that look forward to you renting a car from them. We love the independence of renting a car and not having to wait for a shuttle or finding a taxi, however in New Orleans you should consider a couple of other factors before putting your credit card down to rent a car. The first is parking, it's not always easy to find a spot and it's not always cheap to park here. Second, you may not really need a car. You can get to most of the popular places and historic sites without a car. More details later in this article.
Taxi: The taxis work pretty much the same here as they do anywhere else in the country. A taxi ride to and from the airport to the Central Business District (CBD) is $36 for one or two people, $15 for each additional person. If you're traveling in a small group, it's probably a better deal than the shuttle.
New Orleans Parking
If you're driving here or decided to rent a car, there are a couple of insider local secrets that we shared in our recent article, Parking in the French Quarter Made Easy.
Other Ways To Get Around New Orleans
Whether you get here via car, shuttle or taxi, once you're at the hotel, you probably won't need a car anymore.
If you're staying in the French Quarter or Central Business District, there are many restaurants, sights, shops and other attractions that you can get to by walking. If you can't get their by foot, there's bikes you can rent and pedi cabs (bicycle powered cabs).
No matter where you're staying, New Orleans has a popular, safe and efficient public transportation system to take you to wherever you want to go. The busses can get you from just about any part of the city to another.
Rideshares: like Uber and Lyft are now available in and around the city. Just download the app and choose your destination and your driver will be on his/her way.
Streetcars : You might want to plan your itinerary with activities along the streetcar routes. The New Orleans streetcars are as much a tourist attraction as they are a way to get people around town, so make sure to plan at least an afternoon riding the St. Charles Avenue streetcar uptown or the Canal Street line up to City Park or the Museum. A one way ticket is $1.25. Make sure you bring cash because drivers do not take credit cards. There are also 1, 3, 5 and 31 day unlimited riding passes valid on streetcars and RTA buses...click here for more details - NORTA Fares
That's it! Enjoy your trip!