New Orleans is known for its celebrating spirit and festive atmosphere, but New Orleans is more than a non-stop party. If you're coming to the Big Easy to get away from it all and enjoy a relaxing vacation, or even if you're coming down for work related reasons and need quiet to get that last minute report done, there are hotels that are more on the quiet side of things.
Garden District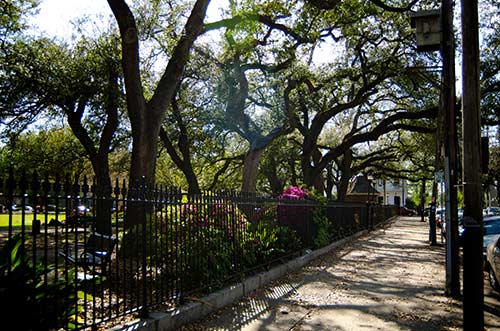 The Garden District is the home to beautiful scenery, classic homes and oak tree lined streets. It's a short walk from most hotels here to some of the city's best restaurants, treasured historic sites and some of the city's most fabulous shopping if you need shopping therapy.
Hotels here are much more relaxing and quiet compared to other parts of the city. Yet, they're still close to everything, just a streetcar ride away from the French Quarter and Central Business District. If you're looking for quiet, we highly recommend the Garden District.
Central Business District
If you're coming to town to get work done, look no further than the Central Business District, called the C.B.D. by locals. Many of the hotels here are designed specifically with the business traveler in mind. Even the most well connected traveler will appreciate the variety of outlets found in the rooms and the well stocked business centers. Plus, there is plenty of meeting space.
French Quarter
Yes, the French Quarter is known for its famous festive atmosphere. However, that doesn't mean that you can't get a good night's rest in this part of town. If you're looking for quiet, I suggest looking at hotels that are not located on Bourbon Street or are in the more residential section of town.
Metairie
If you really want quiet, check out hotels in the suburb of Metairie. It's just a short drive from Metairie to the airport or to downtown New Orleans. Hotels here have lower rates, free parking and generally more spacious accommodations for the price.