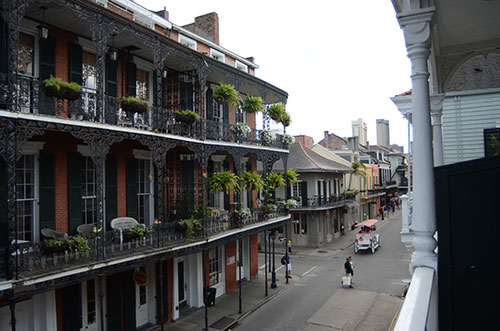 Whether you've spent hours browsing hotel websites or just started looking, there's a number of factors to consider when you're searching for the perfect place to stay in New Orleans. Price and location are of course important, but there are many other factors specific to New Orleans that you should consider before you book your hotel.
Location
French Quarter view from a balcony - it's all about location and that's especially true in New Orleans. Are you coming here to explore the historic sites or planning on weekend full of shopping and celebration? Either way, you'll want to stay in a French Quarter hotel that is within walking distance to everything. Are you coming here for business or for a convention? You'll want to check out the Central Business District or look at the many hotels near the convention center. Looking for something a bit more laid back and away from the hustle and bustle of the French Quarter? Look for a hotel in the Garden District.
Price
Hotels range from affordably priced to luxurious in New Orleans. You can expect to see higher rates during Mardi Gras and the festival season, as well as on holidays.
Parking
Finding parking can be difficult in some areas of New Orleans, especially the French Quarter. If you're planning on driving here or renting a car, you'll need to make sure that your hotel has valet or onsite parking. Some hotels don't have parking and you could be on your own to find a spot. This won't be too much of a problem in the Garden District, but if you're in the French Quarter this could lead to a lengthy and expensive project.
Extra Fees
Speaking of parking, some hotels charge in the neighborhood of $30 or more per night to valet park your car. Compared to many major metropolitan areas, it's a fairly reasonable price tag. It's also what you could expect to pay in a lot if you decide to skip the valet and find your own parking.
Another fee to keep an eye out for is the costs for guest services like internet access, phone calls or access to the fitness center. At some hotels these are complimentary; at other hotels you may have an optional or required fee.
Wi-Fi
Unless you're coming to New Orleans to get away from it all, the availability of Wi-Fi is another factor to consider. Most hotels now offer some sort of internet access so you can stay connected to your work or your friends and family back home. As noted above, some hotels offer access for free. Other hotels may charge you.
Other Accommodations Features
In addition to Wi-Fi, there are a number of other in-room features to consider. Does the hotel have a balcony overlooking the street or a courtyard? This is a uniquely New Orleans option and worth the upgrade. If you're a coffee drinker like me, there are lots of coffee shops to explore here. However, you may need your first cup of coffee as soon as you get out of bed, so make sure the hotel has in-room coffee.
Complimentary Breakfast is a great feature as well. There are many delicious breakfast and brunch spots where you can get everything from Banana's Foster French Toast to Beignets. However, if you need a full stomach before you leave your hotel and go exploring, you may want to find a hotel with complimentary breakfast or an onsite restaurant.
Amenities
Beyond the complimentary breakfast, what other amenities are important to you? Some hotels have courtyard pools, while others have extensive fitness centers in case you need to work off the calories from that delicious New Orleans brunch.
Family Friendly
Most hotels are family friendly in New Orleans, but does that mean you want to stay at a hotel near Bourbon Street? Yes and no, you may want to contact the hotel directly. It's not fun to have a small child and have them woken up in the middle of the night from party goers coming down the hallway on their way back to their room.
Independent Versus Corporate
With a corporate hotel, you have an idea of what type of service you'll receive and the room you'll stay in while you're here. However, New Orleans is the home to many local and independently owned hotels that you don't want to write off just because you've never heard of them.
Reviews
Reviews are a good guide, but don't let them make your final decision. Make sure you read about how the giant hotel review sites sometimes get it wrong. Then make sure to check out our recommendations for the best New Orleans hotels.