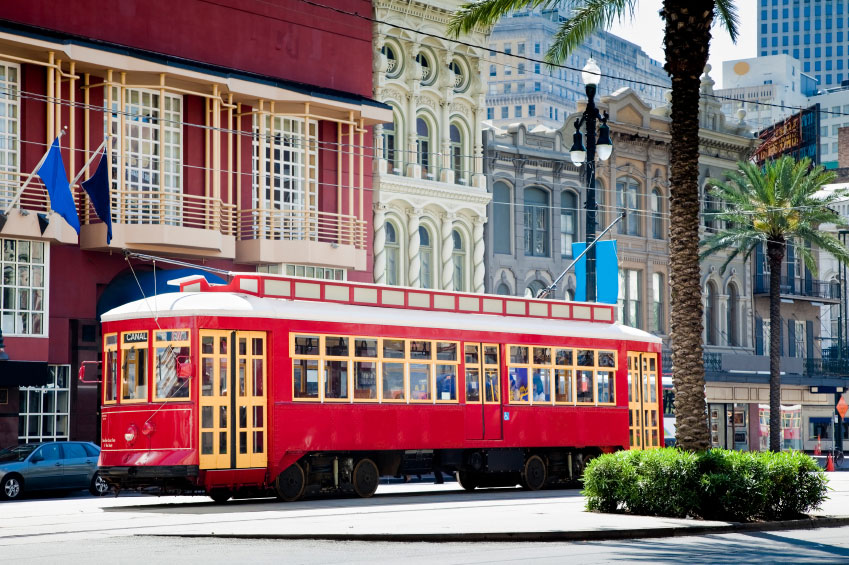 You really don't need a rental car when you come visit us in New Orleans. Once you're settled in at your hotel, you can get to the most popular attractions around the city by foot or via the streetcar. Most New Orleans hotels are within walking distance of a streetcar line and can you get to points throughout the city in a fun and quick manner.
Not only are streetcars a great way to travel around the city, they're also a popular tourist destination. All the lines have traditional streetcars, the most traditional is the St. Charles Avenue line. As beautiful and historic as the Uptown neighborhoods that it travels through, this line looks much as it did in 1923. The original streetcars still roll on this line, while they were refurbished in the 1980's, they still have the antique mahogany seats, brass fittings and exposed light bulbs from an era before plastic seats and aluminum rails.
Of course, whichever line you ride, you'll have a distinctly New Orleans experience.
Canal Street
If you're staying in a hotel in the French Quarter or Central Business District (CBD), you'll be within walking distance of this line. You can catch it anywhere along Canal Street and you can ride it all the way to the historic above ground cemeteries, City Park or the New Orleans Museum of Art.
St. Charles Avenue
Staying in the Garden District? You can ride the streetcar to the festive French Quarter or take it further Uptown. If you're staying in the French Quarter or the CBD, head over to the intersection of St. Charles Avenue and Common Street and ride the train Uptown to explore the award winning restaurants and plentiful shops that both locals and visitors love.
Riverfront
The Riverfront line is a great way to get to the French Market from the Ernest M. Morial Convention Center and points in between including the Aquarium of the Americas and the Outlet Collection at Riverwalk.
Loyola
For anyone coming to town via Amtrak or Greyhound, you'll love the convenience of the Loyola Avenue line. It travels from the Union Passenger Terminal through the Central Business District and along Canal Street. It's an easy way to get to the hotels or if you're in town for a Saints' game, it's a great way to get from your hotel to the Superdome.
More lines are in the works, and if that isn't enough, there's the bus system. It's clean, efficient and quick, so you really don't need a car when you visit New Orleans.